Karina Pivik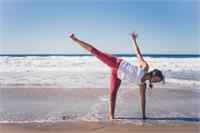 Karina is a New Orleans transplant, yogini, and world traveler. She studied business in college and began yoga when the urge for freedom and adventure overtook routine. She began her studies in Bali, Indonesia, and continues with Shiva Rea in Malibu, CA. She teaches Vinyasa, Power, Yin, and Prenatal yoga. She has worked with athletes, movie stars, children, and elders. Karina is ideal if you're looking for a flow, both in practice and in life with a focus on cultivating flexibility both mentally and physically. Her classes are accessible for all levels yet challenging. Karina encourages a positive attitude from within—building strength, growth, and awareness through her yoga practice.
Karina Pivik instructs the following:
Traditional Vinyasa Flow class for all levels. The pace is moderate and will challenge you physically with an emphasis on alignment and proper form.




This class is designed to help you finish out your day peacefully. Traditional Vinyasa Flow class paired with a healthy dose of restorative poses, meditation and Shavasana.