Rebecca Hutchings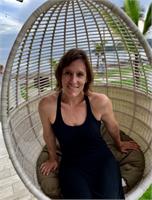 Rebecca teaches both adult and kid yoga. Her primary focus is vinyasa flow, with an emphasis on breath work and injury prevention. Rebecca guides her students through their practice with clear instructions, intelligent sequencing, and hands-on adjustments. She encourages her students to enjoy the physical challenges of yoga, play with personal limits, and find a quiet mind. Rebecca was born and raised in Berkeley, California. She discovered yoga while studying medicine in Manhattan, and has now been practicing for 20 years. In her travels she has been able to study Aryuvedic medicine, as well as yoga at Kasturba Medical College in Manipal, India. Although Rebecca practices traditional western medicine, she believes that adding alternative therapies can be quite beneficial for some of her patients. She completed her 200-hour yoga teacher training with Annie Carpenter's SmartFLOW school. Off the mat, Rebecca is a wife, the mother of two lively children, a dog lover, runner, and an Emergency Medicine physician.
Rebecca Hutchings instructs the following:
Traditional Vinyasa Flow class for all levels. The pace is moderate and will challenge you physically with an emphasis on alignment and proper form.




This class will start with a 20-minute yoga warm up designed specifically with runners in mind. Our running coach Jeff will then take you on a 3.5-mile guided run through Audubon Park. There will be a short walking cool down at the end of the class. In the case of rain, there will be a one hour Vinyasa Flow class offered in the studio.




This class is geared toward beginners, or those looking to get back to the basics yoga. Our Level 1 Vinyasa Flow class will include a break down of Sun Salutations A and B, linking breath with movement, and a focus on proper alignment in classic poses.




This class is for yogis age 5 and up. The class is a balance between active dynamic movements and moments of stillness and mindfulness. Students will be exposed to traditional yoga poses, sun salutations, and some partner poses. Embrace your inner child!

Children should be accompanied by an adult.