Erica Burjek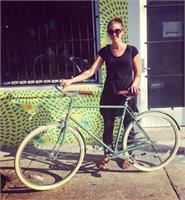 Erica has been a teacher in the New Orleans charter schools since 2012, and a yoga teacher since 2015. She completed her 200-hour yoga teacher training in the summer of 2015 to deepen her personal practice, but quickly realized she loved teaching as well. She has been teaching all around New Orleans since 2015: at studios, for free, and even at offices around town to get everyone up and moving. She is currently in a 300-hour yoga teacher training to continue to deepen her knowledge. Erica is certified to teach kids' yoga through the GroovyKids™ program, and is certified as a mindful educator through Mindful Schools. Erica believes in incorporating yoga and mindfulness into the education of her students throughout the school day.
Erica Burjek instructs the following:
This is a kid yoga class designed for children aged 5 and up. Curriculum and class themes run on a monthly basis. Your children can come as often as they like during scheduled times during the month.




Traditional Vinyasa Flow class for all levels. The pace is moderate and will challenge you physically with an emphasis on alignment and proper form.